I don't know whether time has sped up after Covid, but the days/months do seem to be flying along lately.  Here we are in October, with Fall starting to show itself in cool nights and mornings, the slight changing of colour in the beautiful trees that surround us, while giving us a nice blast of warmth to prepare us for another winter season.
The weather forecasters (who seem to be 50% wrong, 90% of the time and still look good), say that an El Niño effect will impact our winter making it milder than normal, with unpredictable winter storms. Sounds like a safe prediction, but of course who knows.  What we do know is that in our northern climates winter will come, the cold weather will surprise us from day to day, we will have to contend with snow on the ground and we will open our closet to what will keep us warm and comfortable on a given day.
That is where we come in at Cahill's.  Warm and comfortable is our specialty.   
New Arrivals:
We are now receiving our new styles, colours and sizes daily in cloth coats and jackets (from HiSO, Toronto) of Cashmere/wool, Alpaca, Camel Hair and more.  We likely have the largest collection of domestically made outerwear in the area.  And if we don't have exactly what you are looking for, we can have it custom made. Our Barbour (UK) collection of waxed cotton jackets, quilted jackets, coats and vests and a wide range of accessories is now restocked, so if you are looking for something to fill in or freshen up your wardrobe, now is a great time to choose from the widest selection, and be ready for when the 'weather' hits.
Of course, we have our fur collection in ready-made items from Canada and from European Fashion Houses, along with Reversibles in a range of colours and styles, with fur going to the inside or out with a lightweight taffeta shell.
FurtherTM  by Cahill - Upcycled Fur 
The busiest part of our business is the Upcycling of vintage and heirloom furs into various fashion, accessories and home décor items.  We continue to develop new styles and introduce new materials for the FurtherTM collection, with waterproof cashmere outer layer by Loro Piana (Storm System) and a full line of Loro Piana cashmere coats with sheared fur linings. 
Our FurtherTM collection continues to inspire people to bring their furs from their closets and re-purpose them into new fashions for her, for him or for the home in throws or pillows.   At Cahill's we continue to have the skilled Master Furriers and Master Tailors/Seamstresses to do this custom work, along with support from outstanding designers and pattern makers to help create new styles and bespoke fittings to meet almost any dream item.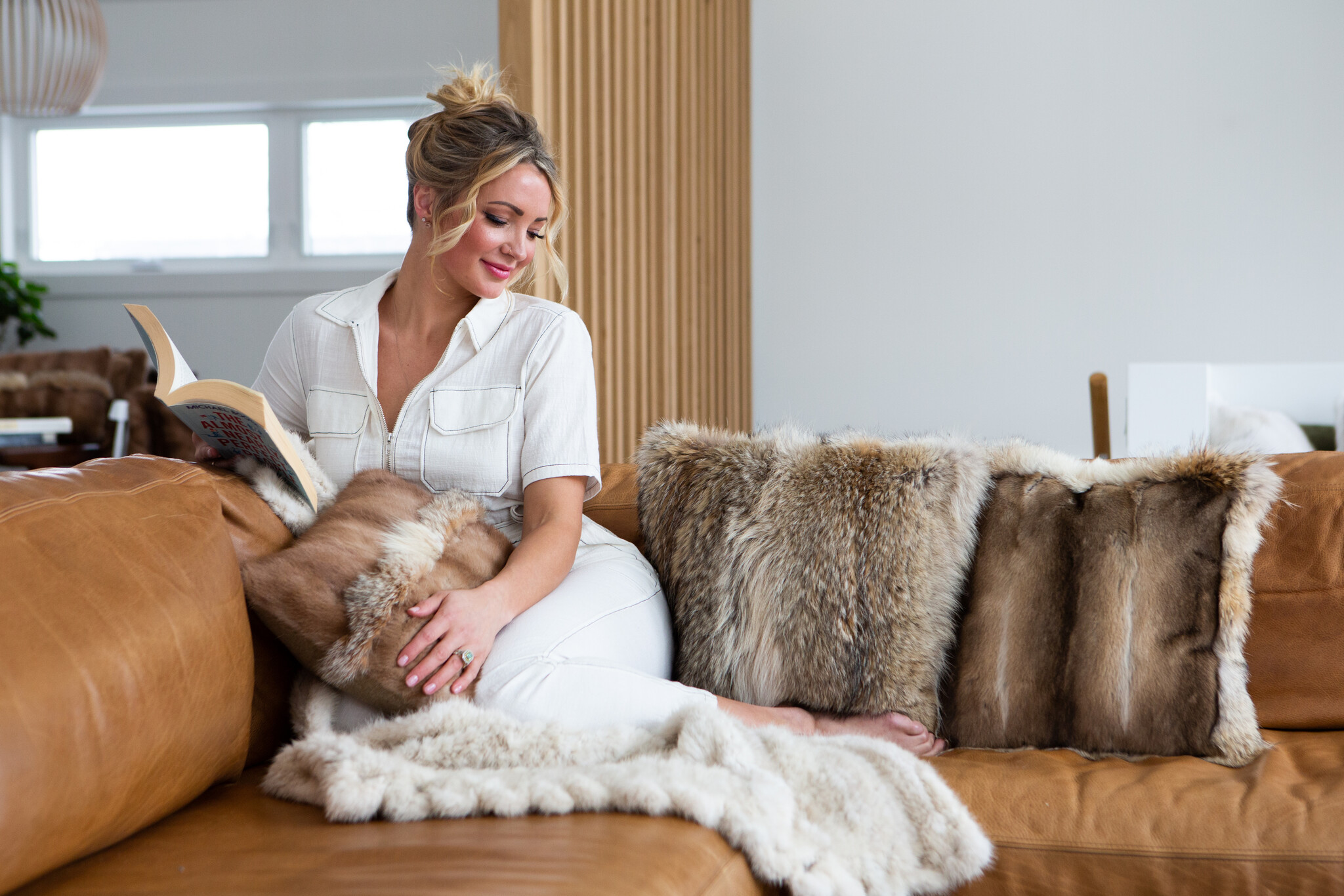 In the coming weeks we will be launching a new FurtherTM collaboration with D'Arcy Moses, a Dene First Nations Designer from the Northwest Territories.  His styles and bead-like embroidery work is exceptional and will be featured in home décor and fashions. Here is a little taste with a lot more to follow in the coming days and weeks. 
We will be showing this collection publicly for the first time during the upcoming First Friday Art Crawl in downtown Peterborough from 6-10 pm at the store.  We will also have a Special Guest artist and designer, designer Liz Beckley from Barrie, of Liz Beckly Bags who combines vintage hand-bags and vintage furs with some style and flare.
The Fur Vault
With the rise of re-sale and vintage shoppers, we have selected a collection of our vintage furs, kept in our climate controlled storage vault, cleaned and done small repairs to offer what is probably the largest collection of vintage and consignment furs in Canada.  We will be adding them to our on-line shop and showcasing them in the store.  For those who are serious thrifters, we can also let you pick through our vault (appointments required). Buying Vintage furs is a great way to find the warmest winter coat, with a special style at very reasonable prices, or purchase them for an Upcycle project that suits your style today.  More on this to follow.
If you are on Social media, go to our Further_Upcycled Instagram page to see many of the most current styles and custom customer projects.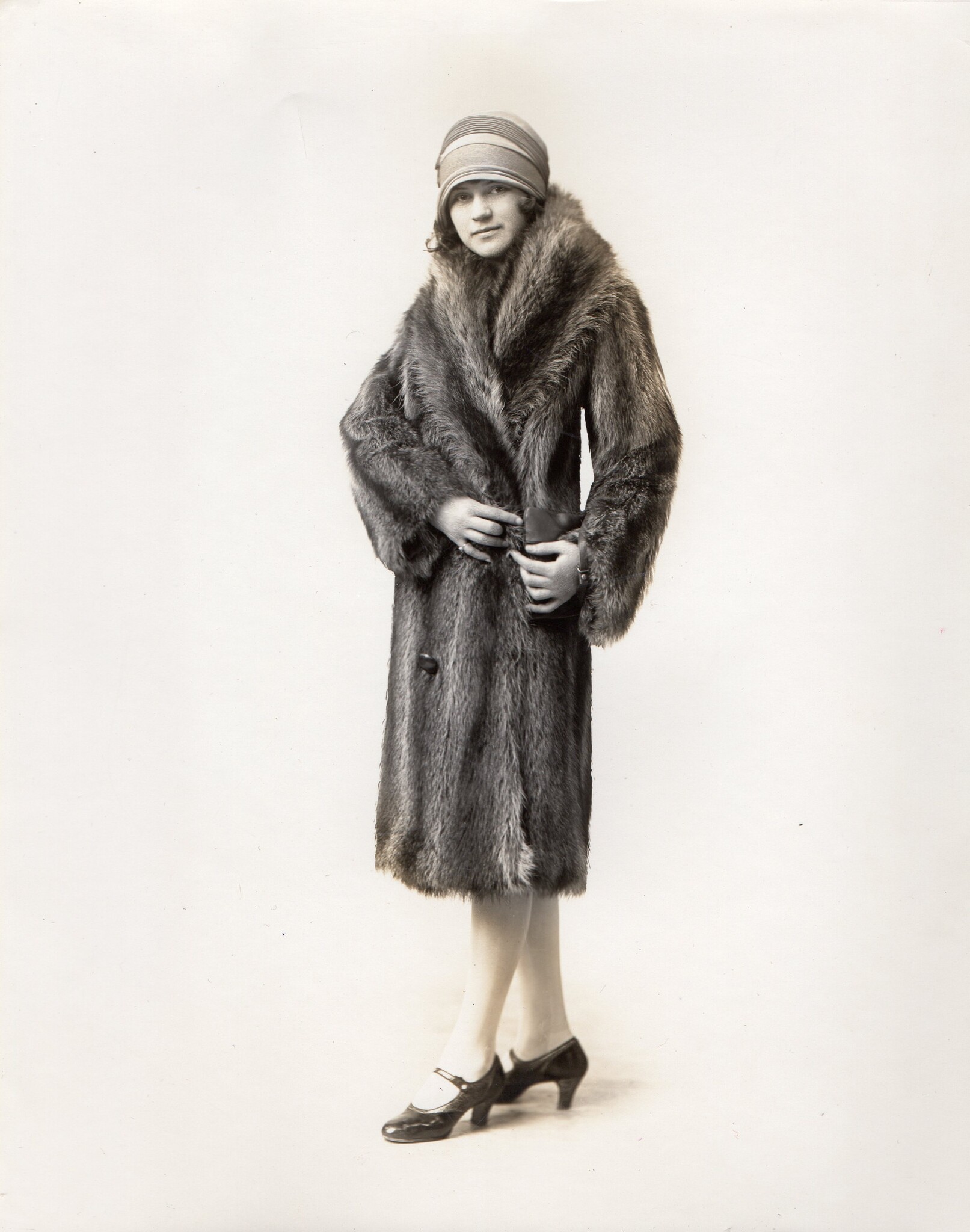 Storage Delivery:
A big push this month is the out-of-town storage deliveries to regions from the East end of the GTA, Fenelon Falls/Lindsay, Port Hope/Cobourg, Belleville, Kingston/Gananoque, and along the Hwy 7 Corridor to Madoc (and everywhere in between).  We are reaching out to all our out-of-town storage customers to make home delivery arrangements.  Our Peterborough and area customers are welcome to come in at any time, or call the store to make home-delivery arrangements.
What's Coming:
For the first time, we will be showing at this year's Royal Winter and Agricultural Fair (The Royal) at the CNE grounds in Toronto.  We are so excited to show the Barbour collection, that is of course a Royal Brand, endorsed by King Charles (while he was the Prince of Wales), the late Queen Elizabeth II, and the Duke of Edinburgh (See our Blog post on the Barbour Royal Warrants).  Barbour also has a long history supplying outdoor clothing to the equine field.  The FurtherTM collections will also be featured along with D'Arcy Moses showing some of his own creations.
Thank you for reading and for your ongoing support and appreciation for what we are creating and offering from our workshop and store in downtown Peterborough.